Freshcare Quality Assurance

A little about our quality assurance program ...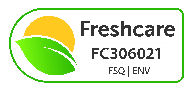 R J Cornish & Co Pty Ltd has a strong foundation in quality assurance programs, having previously had ISO 9001:2000 & HACCP quality assurance certification and in more recent years moving to the on-farm Freshcare quality assurance program which is more appropriate for our needs and the needs of our customers..
Freshcare is currently the largest Australian on–farm assurance program for fresh produce; proudly providing on-farm food safety & quality and environmental certification services to over 5000 members nationally.

R J Cornish & Co maintains Food Safety & Quality Certification and Environmental Certification. This means that we have demonstrated that our on-farm practices and procedures provide an assurance that our produce is safe to eat, has been prepared to customer specifications and legislative requirements; and has been grown with care for the environment.
All of our workers and contractors are required to support these programs to ensure that we maintain the highest possible standards for our customers and eventual consumers.

Next Article